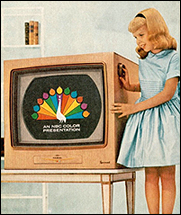 That's my prediction. Advertisers will finally follow simple common sense, something a certain seer has been urging for years:
18 April 2011
The Flat-Screen Rectangle of Common Sense
Good piece by Steve Weaver of ThinkTV Australia:
Size does matter: how ad size and screen coverage affect audience attention
… In real life, TV commands 58% active viewing, compared to only 31% for YouTube and just 4% for Facebook … TV's relaxed, 'lean-back' viewing environment is not to be confused with passive ad attention …

An ad on Facebook averages 10% screen coverage. An ad on YouTube averages 30% screen coverage and on TV – where the ad plays full screen with no scrolling and no clutter – screen coverage for ads is 100%.
So, in simple terms, size matters.
Now factor in the size of smartphones vs. the size of televisions. An advertisement you hold in your hand is about as big as a large piece of confetti. And I've noticed that often they scurry around like tiny bedbugs. Sometimes I try to squash them.
NostraChuckus' thoughts through the years:
May 2010:
Foretellings
… That silly retronym "traditional advertising" will remain the premiere force for introducing people to a product or service, along with sustaining its shelf life. Television, radio, and billboard ads will continue to have the visceral power they've always had – if only for their sheer size, simplicity, and cutting-edge audio/visual qualities ...
06 March 2012
Digital Distractions
Advertisers are getting wise to the drawbacks of marketing in the digital nest…

12 March 2012
Digital Distractions II
There are so many digital distractions that it's difficult to be distracted…
22 September 2015
Marketing Miscellanea
… Baby boomers also had a highly negative response to mobile ads ... Fewer than 8% said they were likely to purchase a product advertised on their mobile phone … Overall, just 5.2% were interested in receiving ads on their phone at all …

28 November 2017
Smartphone Ads = Silly Graphical Doodads
NostraChuckus' Crystal Ball of Common Sense is getting hazy now…